CRUSH.KILL.DESTROY.SWAG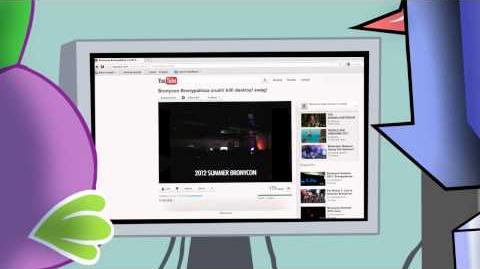 ← Previous Episode
Next Episode →
The minisode begins with footage from the summer 2012 Bronycon, where a massive crowd of Bronies are chanting the R-Dash 5000's signature phrase, "Crush, Kill, Destroy, Swag". The camera then zooms out to show the R-Dash 5000, Spike, and Twilight Sparkle watching the footage on YouTube. The R-Dash remarks that "these people are a bunch of freaks", to which Spike has no argument.
Ad blocker interference detected!
Wikia is a free-to-use site that makes money from advertising. We have a modified experience for viewers using ad blockers

Wikia is not accessible if you've made further modifications. Remove the custom ad blocker rule(s) and the page will load as expected.