Welcome to
PONY.MOV

111 articles and growing...

Some viewers may find this content disturbing. View discretion is advised.
♥ APPLE.MOV ♥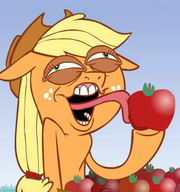 The episode starts out with Applejack eating apples, and blabbing about how much she loves them. Twilight Sparkle comes up and asks her what is she doing, and that she can not eat all those fucking apples. Applejack becomes more determined than ever and starts eating even more apples. All the ponies start to gather around and watch Applejack eat her apples. She starts doing tricks, such as impersonating a walrus. Then Spike comes up and tells Applejack she is crazy. (read more.) Vote for next month's featured article here.
Ad blocker interference detected!
Wikia is a free-to-use site that makes money from advertising. We have a modified experience for viewers using ad blockers

Wikia is not accessible if you've made further modifications. Remove the custom ad blocker rule(s) and the page will load as expected.